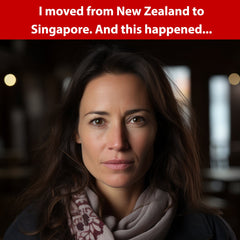 Ever since I moved from New Zealand to the Singapore city, my allergies have been out of control. It seems like every pollen season is worse than the last. Even inside my own home, I sneeze non-stop and struggle to breathe. Asthma has made everything so much more challenging.
Being a librarian, I'm surrounded by dusty books all day, which doesn't help. Just when I think I've gotten used to it, a sneeze-fit comes out of nowhere.
My nights aren't any better. Despite keeping my windows closed, I often wake up gasping for air.
Doctor visits, allergy medications, even changing my diet – nothing gives me lasting relief.
Can anyone relate?
---
If you've been battling with persistent allergies and asthma symptoms, you've probably been advised to:
Stay indoors during high pollen counts
Vacuum regularly and wash bedding often
Keep pets out of bedrooms
But despite your best efforts, those allergy symptoms persist, and asthma attacks remain a looming threat.
Did you know that indoor air can be up to 5 times more polluted than outdoor air?
This means allergens, pollutants, and other airborne irritants are constantly circulating in your home. And they could be the primary culprits exacerbating your allergies and asthma.
So, how do you protect yourself from these invisible threats?
=== Over 100,000 People Have Turned to Sterra Moon Air Purifier to Breathe Easier and Sleep Better ===
Sterra Moon is not just any air purifier. It's designed specifically to capture and neutralize the smallest allergens and airborne irritants that can trigger allergies and asthma attacks.
Key features include:
🌬️ Advanced HEPA Filtration Catches up to 99.97% of particles, including pollen, dust, pet dander, and even smoke. This ensures you're breathing the cleanest air possible.
🌙 SterraMoon Ionic Technology Releases negative ions that neutralize airborne contaminants, ensuring even those ultra-fine particles are dealt with.
💡 UV-C Light Sterilization Kills bacteria and viruses that could further irritate respiratory conditions.
---
Here's what satisfied customers have to say:
⭐ Anna T., 36 ⭐ "I never realized how polluted my home's air was until I got Sterra Moon. Not only are my allergies better, but I also haven't had an asthma flare-up since I started using it."
⭐ Michael L., 47 ⭐ "My daughter's asthma was always a concern, especially at night. But with Sterra Moon in her room, I can sleep peacefully knowing she's breathing clean air."
⭐ Leena T., 28 ⭐ "I've tried other air purifiers before, but none have been as effective as Sterra Moon. I no longer wake up with that stuffy nose feeling!"
---
With a stellar 4.8 rating on Trustpilot, Sterra Moon Air Purifier stands as a beacon of hope for those struggling with allergies and asthma.
Experience the Sterra Moon difference for yourself: https://sterra.sg/collections/sterra-moon-air-purifier/products/sterra-moon
=== Breathe Clean Air… Or It's Free Within 90 Days! ===
Every Sterra Moon Air Purifier comes with a 90-day 100% money-back guarantee. If you're not satisfied for any reason, just let us know, and we'll refund every cent.
Don't let allergies and asthma rule your life. Let Sterra Moon help you reclaim your comfort.
Try Sterra Moon risk-free today!
---
Questions about Sterra Moon? Here are answers to some of the most frequently asked questions:
📌 "Can I use Sterra Moon if I have pets?" Absolutely! Sterra Moon is designed to capture pet dander, a common allergen, ensuring you and your pets breathe clean air.
📌 "How often should I replace the filter?" For optimal performance, we recommend replacing the filter every 6 months. It depends on the air quality in your environment.
📌 "How much does it cost?" A single Sterra Moon Air Purifier is priced at $479. However, with our current promotion, you can get it for just $229! Plus, we offer free shipping on all orders!
🌙 Why Sterra Moon Stands Out 🌙
Efficient Filtration System: Designed to tackle both allergy and asthma triggers, capturing 99.97% of airborne particles.

Whisper Quiet: Operates silently, ensuring you get a good night's sleep.

Fast Shipping: As I experienced, Sterra Moon ensures you get your purifier in record time.
---
 Click here to check the availability!
---
With Sterra Moon, breathe the difference and live freely without the constant worry of allergies and asthma.