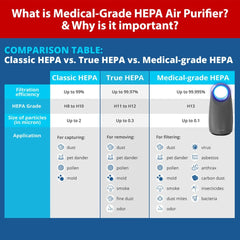 Air purifiers are selling like crazy recently... and people are getting familiar with the importance of HEPA filters.
But even within HEPA filters, there are different kinds of filters... yes I know it's so complicated. I just want to breathe in clean and healthy air... right?

Here we will simplify it for you... to understand the differences in the HEPA filters and which one you should get.
3 types of HEPA Filters
HEPA filters are among the most commonly used and effective filters in air quality appliances. While there are a few different types of HEPA filters, medical-grade HEPA are the most effective. They can remove up to 99.995% of particles of 0.1-micron diameter in size or larger.
True HEPA filters are also highly effective and can catch up to 99.97% of particles that are not smaller than 0.3 microns. The regular HEPA filter air purifiers are the least recommendable as particles of 1.99 microns and smaller are not removed.
Benefits of air purifier with medical-grade air purifier
Poor indoor air can be directly linked to short-term issues such as headaches, dizziness, fatigue, and long-term health effects like respiratory and heart disease. It's important now more than ever to have clean, healthy air in your home.
Here at Sterra, we believe HEPA filters are the only way to go when it comes to cleaning contaminants from the air, but buying the right one isn't that simple as there are various types of HEPA filters on the market. 
So we thought we would compare Medical Grade HEPA, True HEPA, and HEPA type filters, explaining what each one does and which would be the best for your home.
This is why the Sterra Mars Air Purifier is selling like crazy...
The simplest and most effective to create high quality air around you is to get rid of allergens and dust through an Air Purifier with a True Medical-grade HEPA-13 filter.
Even with a Medical-grade TRUE HEPA13 filter, Sterra Mars Air Purifier is still selling at the most crazy affordable prices. 
The Sterra Mars Air Purifier is used by thousands of Singaporeans and celebrities. It offers maximum protection against bacteria, viruses, allergens, and other air contaminants, without the pricey cost.
It uses cutting-edge technology to provide the best air filtering system but comes at a reasonable price. It is a popular household option because Sterra Mars offers value for money by providing high-quality air purifiers but making them budget-friendly. 
The Sterra Mars Air Purifier is on a limited-time 50% OFF sale now!