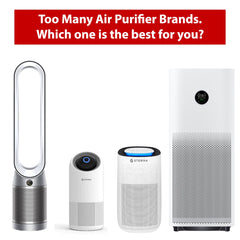 Which Air Purifier is best for your specific needs? You probably already know that an Air Purifier is crucial for you and your family's health and comfort by reducing viruses, bacterias, allergies, sinuses and so much more...
BUT there are so many brands and models... which one is the best for you?
The truth is... different people have different needs for an air purifier. There is no one size fit all Air Purifier..
Here's the Top 5 things you need to take note when choosing an Air Purifier that's suitable for you.
1. Where is your Air Purifier for? 
Is it the car, bedroom, living room, kitchen, wardrobe or the entire home? The bigger the space and the dirtier it is, you would need a more powerful Air Purifier that can cater to it.
2. What's your main reason for wanting an Air Purifier?
You want to remove dust, smell, bacteria, viruses? Or is it for your pets? Or is it just general health and cleanliness? Make sure the Air Purifier you choose serves your needs. The smaller the particles you want to remove, the better the specs you need on your Air Purifier.
3. Do you need HEPA filter?
HEPA filter is the most important function in the Air Purifier. With today's technology, it's relatively affordable to get a HEPA filter. Our suggestion is to not save on this as it may defeat the purpose of having an air purifier. Only go for the best True HEPA-13 filters so that the air purifier can remove almost all particles, even if they are very small.
4. Design
An Air Purifier is like a furniture in your home. It has to look nice and sleek. Having an ugly air purifier is just a sore to the eyes every time you walk by it. An air purifier with nice design should blend into the home very beautifully. It's aesthetically pleasing. It's art.
5. UV or Negative Ion?
Look out for air purifier with UV or Negative Ion technology. They are more powerful technology that would clean the air even more efficiently than basic air purifiers without them.
Now that you understand your own air purifier needs, you can go ahead and choose your preferred air purifier.
If you're interested, Sterra takes pride in creating high specs and quality air purifiers at very reasonable prices. Sterra's air purifiers are the most popular in Singapore and are used by thousand of Singaporeans and celebrities.
Sterra's air purifiers are designed to be sleek and nice, with hospital grade True HEPA-13 filters, with the latest UV and Negative Ion technology that is hard to find in Singapore.
Sterra's Air Purifiers are on limited time 50% OFF sale now and you can check them out here: https://sterra.sg/collections/air-purifiers