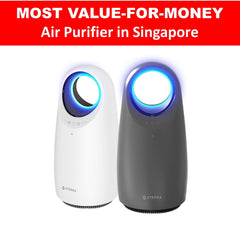 Air purifiers have become an essential item in many households... this is because more and more people are realizing the importance of having a clean and safe air at home.
Are Air Purifiers really helpful?
We never stop breathing. Therefore, having a good air quality at home will improve your overall health, sleep quality, energy, mood and how you feel every day. An air purifier can help achieve this, but many air purifiers in the market lack the TRUE HEPA-13 Filters and Activated Carbon filters that remove harmful particles and bad smell from your home or office, and will also cost you $300 - $500!
This is why…
Sterra Mars Air Purifier is currently the MOST VALUE-FOR-MONEY AIR PURIFIER in SINGAPORE!
Before we reveal this unbeatable price to you, we will show you the TOP 3 PERKS of the Sterra Mars you can get for less than 200$ of your hard-earn money.
1. The MOST EFFECTIVE FILTER in the market
The Sterra Mars™ is the ONLY table top air purifier with a MEDICAL GRADE TRUE HEPA-13 filter and activated carbon filter. The filter used by the Sterra Mars consists of a (1)Patented Pre-Filter, (2)True HEPA-13 filter and a (3)Activated Charcoal layer that is even used in the air filtration system in hospitals.
1. Patented Pre-filter Fabric

Captures hair, dust, lint, and pet micro-fur and dander so you can wake up congestion-free in the morning and have less dust and pet fur in your room

2. True HEPA-13 Filter

The same filter grade as hospitals - effectively gets rid of micron particles in the air by trapping 99.97% of all airborne contaminants including allergens, viruses and bacteria.

3. Activated Charcoal Layer

Keeps your air smelling fresh by absorbing and neutralizing unpleasant odors in the air such as smoke, foul smell from pets, cooking smells, etc. It even absorbs the deadly formaldehyde chemical that is commonly found in wood furniture, gas stoves, and walls and floors.
2.  SLEEK, COMPACT & LIGHTWEIGHT
Most other air purifiers out there in the market are bulky, overpriced and aren't that aesthetically pleasing.
Sterra Mars™ Air Purifier is meant to be as portable as can be! Weighing only 2.4kg and 43cm in height, this air purifier is uniquely designed to not only feature the latest air filtration technology but also present a modern & minimalistic aesthetic. It works as both a handy air purifier and also a statement piece in your home.
Best of all? It does all of this while still staying extremely affordable! For an air purifier of this quality, other brands would easily charge $300 - $500. But Sterra Mars™ goes for less than half the price, making it the most Value for Money, sleek and modern air purifier!
3. Counters Allergies, Asthma, Sinuses & Other Respiratory Problems
Sterra Mars™ efficiently eliminates 99.97% of airborne pollutants such as smoke, viruses, bacteria, allergens, PM 2.5, dust mites, mould spores. These are pollutants that commonly trigger and worsen allergies and respiratory problems, such as Asthma.
Microscopic allergens in dust such as dust mites, pollen, soil, dead skin, insect droppings, dander and food debris that triggers allergies can also easily be filtered by the Sterra Mars™, saving you money in tissues and allergy creams!
We have no control over what goes in the air we breathe in. For example, secondhand smoke from neighbours can instantly trigger runny nose, coughing, sneezing and may even cause breathing difficulties. But it doesn't have to be this way.
Sterra Mars™ enables you to take back control over the air you breathe in. By efficiently removing impurities from the air, you can now breathe easy and be far healthier in the long run.
CONVINCED? …YOU SHOULD BE
The Sterra Mars™ has a medical-grade True HEPA-13 filter and it is one of the most popular compact air purifiers in Singapore. The Sterra Mars Air purifier is used by thousands of Singaporeans and celebrities. It offers maximum protection against bacteria, viruses, allergens, and other air contaminants, without the pricey cost.
It uses cutting-edge technology to provide the best air filtering system but comes at a reasonable price. It is a popular household option because Sterra Mars offers value for money by providing high-quality air purifiers but making them budget-friendly. 
The Sterra Mars™Air Purifier is on a limited-time 50% OFF sale now! 
Click here to check the availability!