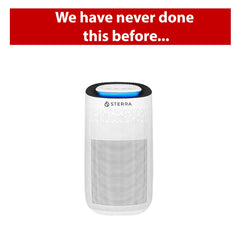 🚨 We've Never Done This Before...
They felt giving away $228,000 worth of discounts on our original prices of Air Purifiers was just TOO much.
But hey, we just want to give Singaporeans the fastest and easiest way to get clean and healthy air to clear dust and bacteria from homes... So that we can breathe easily, clear our sinus and allergies fast.
And the data speaks for itself:
Over 87% of our Sterra Breeze customers literally felt obvious results by simply having a Sterra Breeze Air Purifier around them.
Our finance team eventually agreed to the idea - on ONE conditions:
1. We can only set aside 1,200 Sterra Breeze Air Purifiers at these insane prices of $190 OFF.
It sounded reasonable to us - so we're happy to announce:
Simply purchase an Sterra Breeze Air Purifier Now and get $190 OFF savings for each purchase:
🚨 What is Sterra Breeze Air Purifier and how does it help me breathe easily, clear our sinus and allergies fast?
Sterra Breeze Air Purifier is Singapore's leading Air Purifier that gets rid of 99.97% of all airborne contaminants, bacteria, viruses, dust and allergens effectively!
🏠 Fresh, clean air with ultra-effective 3-in-1 True HEPA-13
🔇 Soft whisper-quiet so it won't disturb your sleep
🌬 400 m3/hr of fresh, clean air – can even purify 80 sqm rooms in less than 8 minutes!
⚡ Energy-friendly – consumes up to 47% lower electricity than other brands
🔥 Easy to use – just one touch to turn it on!
🧬 UV Tech upgrade available!
Get rid of dust at home and breathe freely as you please!
🚨 How has Sterra Breeze Air Purifier helped Singaporeans?
"My daughter got a Sterra Breeze and it is an amazing product! I've been using it for a few weeks weeks and really feel better. I have more energy, less irritability in my eyes and throat!"
"Last time, I can't sleep because I experience blocked nose and allergy every night. After using Sterra Breeze every night when I sleep… my nose and throat definitely feels better. And this is without crazy sprays, medicine or surgery.."
"Having Sterra Breeze was the best decision I made this year!
I have very bad sinus since young and they give me a very bad headache. I tried so many things and seen so many doctors. Turns out my room is just dusty... even though it looks clean. Now I sleep so well every night and I don't fall sick so much. After using for 3 months, I feel so much better and healthier. My room also smells nice!"
🔥 Best To Act Fast Though… This Is A Limited-Time Deal!
We're on strict orders from our finance department to only give this low prices for 1,200 Sterra Breeze Air Purifiers.
Because at $190 OFF per Air Purifier, that's $228,000 we're giving away to help Singaporeans feel comfortable and be healthier.
A worthwhile investment for sure - but we still have to keep the business running. 😂
And if you get your Sterra Breeze Air Purifier now, you'll enjoy a whopping $190 OFF during our limited-time promo. It's your FINAL CHANCE to get this!
That's why once these 1,200 Sterra Breeze Air Purifiers are snapped up, that's it.
This special deal will be taken off the table.
So act fast while this is still fresh on your mind.
Honestly, there's NOTHING to lose... We're guaranteeing that you will feel results in 90 days or less…
Or we'll give you your money back.
Get your Sterra Breeze Air Purifier today at $190 OFF:
Plus, we'll also pay for your shipping so the delivery is 100% FREE! 🤯
So hurry and get your Sterra Breeze air purifier now.
Stocks are running out fast so don't lose out of this $190 worth of savings!