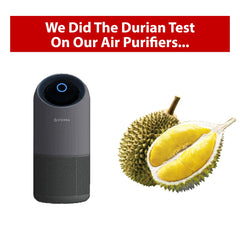 Durian season is here... My mum loves durians while my dad can't stand the smell of it.
So I decided to run a durian test with my Sterra Moon Air Purifier.
My mum and I sat beside the Sterra Moon Air Purifier and had our durian. We turn it on to high mode to try to remove all durian odour.
The results... My dad was very pleased. Or at least he was not displeased with our durians. 
The smell of durians in the house was much lower than usual as we ate the durians.
After 30 minutes or so, there was entire no more durian smell. Without the Sterra Moon, the durian smell usually stays for hours, and sometimes we can even smell it the next day.
Now we can have our durians in peace!

The Sterra Moon Air Purifier doesn't only remove smell...
It also creates high quality air around you by removing allergens and dust with a True HEPA-13 filter and activated carbon filter.
The Sterra Moon Air Purifier has a medical-grade True HEPA-13 filter and it is one of the most popular air purifiers in Singapore. The Sterra Moon Air purifier is used by thousands of Singaporeans and celebrities. It offers maximum protection against bacteria, viruses, allergens, and other air contaminants, without the pricey cost.
It uses cutting-edge technology to provide the best air filtering system but comes at a reasonable price. It is a popular household option because Sterra Moon offers value for money by providing high-quality air purifiers but making them budget-friendly. 
Other than True HEPA-13 filter, with the Sterra Moon Air Purifier, you can get the UV or Negative Ion feature to receive optimal protection against harmful elements in the air. Sterra is one of the very few air purifiers in Singapore that have True HEPA-13 filters with latest UV and Negative Ion Technology, making it one of the most sought-after brands. 
The Sterra Moon Air Purifier is on a limited-time 50% OFF sale now!