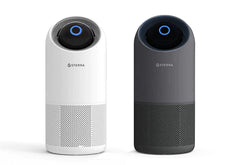 The Sterra Moon Air Purifiers are taking Singapore by storm! The newly launched air purifier has sold thousands of units in just three weeks and this is why.
Here are the reasons why the Sterra Moon has sold thousands of units in just 3 weeks.
1. Value for money
Simply put - Other Air Purifiers with similar specs and quality cost 3 times more than Sterra Moon. Price and quality are always deciding factors when it comes to purchasing and Sterra Moon Air purifier offers the best of both worlds. The Sterra Moon Air Purifier is built with True HEPA 13 filter and can be customized whether it will have the UV technology or Ion Exchange feature. In terms of the power of cleaning air, CADR and coverage area, there is no other air purifier that can match Sterra Moon's quality and price. It also has activated charcoal on its filters that removes smoke and unwanted odors. The Sterra Moon Air Purifier offers maximum protection without the hefty price tag,  guaranteeing each buyer gets value for their money. People want quality products and budget friendly price, Sterra Moon gives both.
2. Stylish design and efficiency
Another reason why the Sterra Moon Purifier became a consumer favorite is because it is sleek and compact design. Sterra Moon is made by designers. It is also made with the latest breakthrough technology that allows it to have the power of much larger air purifiers while not being big and bulky. This is why Sterra Moon is able to be sleek, slim and small while not compromising on its air cleansing power. 
3. Extremely Quiet
This latest breakthrough technology also made Sterra Moon one of the quietest Air Purifiers, going as low as 20 decibels. The last thing you want is a noisy air purifier that keeps you up the whole night.
All in all, Sterra Moon uses breakthrough technology to create a powerful air purifier, with specs and power that only high-end and expensive air purifiers offer. At the same time, Sterra Moon maintains sleek, slim and small design and affordable pricing. 
This is why Sterra Moon Air Purifier is viral and it is one of the most popular air purifiers in Singapore and is used by thousands of Singaporeans and celebrities. 
The Sterra Moon Air Purifier is on a limited-time 50% OFF sale now! 
Click here to check the availability!