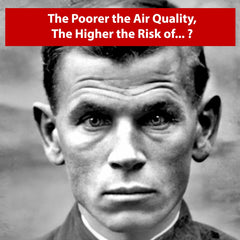 We all know that poor quality air is bad for us. But how bad is it?
Studies have shown that there is a link between high Pollution Standards Index (PSI) levels and an increased short-term risk to mortality. Simply put, this means that if you are in an environment of poorer air quality, there is higher risk of you dying. This is a data driven fact from studies.
Now, the next question is how bad is the air quality in Singapore? 
In 2019, Singapore's average PM2.5 concentration was 19 µg/m³, which exceeds the World Health Organisation's recommended PM2.5 target of 10 µg/m³. 
We are almost twice of what is the recommended air quality. This gives us a rating in the US Air Quality Index system of 'Moderate'. The 'Moderate' rating indicates that sensitive individuals should avoid outdoor activity, as they may experience respiratory symptoms.
Singapore ranked as having the 52nd worst air pollution levels of the 98 countries with available data based on PM2.5 levels, and 44th worst of the 85 capital cities included. Among global capital cities in 2019, Singapore ranked as more polluted than Taipei (13.9 µg/m³) and Manila (12.1 µg/m³).
In short, Singapore could be great for many things, but we are not great at having good air quality.
So... what should we do?
The simplest and most effective to create high quality air around you is to get rid of allergens and dust through an Air Purifier with a True HEPA-13 filter.
The Sterra Moon Air Purifier has a medical-grade True HEPA-13 filter and it is one of the most popular air purifiers in Singapore. The Sterra Moon Air purifier is used by thousands of Singaporeans and celebrities. It offers maximum protection against bacteria, viruses, allergens, and other air contaminants, without the pricey cost.
It uses cutting-edge technology to provide the best air filtering system but comes at a reasonable price. It is a popular household option because Sterra Moon offers value for money by providing high-quality air purifiers but making them budget-friendly. 
Other than True HEPA-13 filter, with the Sterra Moon Air Purifier, you can get the UV or Negative Ion feature to receive optimal protection against harmful elements in the air. Sterra is one of the very few air purifiers in Singapore that have True HEPA-13 filters with latest UV and Negative Ion Technology, making it one of the most sought-after brands. 
The Sterra Moon Air Purifier is on a limited-time 50% OFF sale now! 
Click here to check the availability!