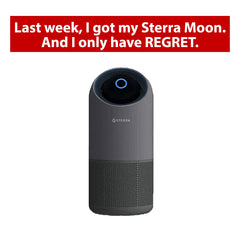 Last week, I got my Sterra Moon Air Purifier... And I only have regret.
I've always had watery eyes, a constant stuffy nose, and that incessant itch in the back of my throat. Asthma flare-ups? They were part of my morning routine. My entire family shares these genes, and all of us understand allergy and asthma too well.
When I visited my cousin's place last week, I noticed she seemed a little different. There was a calmness about her, a sense of relief I hadn't seen in her for years. That's when I spotted the Sterra Moon Air Purifier in her living room. She raved about how Sterra Moon significantly lessened her sneezing fits, her itchy eyes, and even her asthma episodes.
Honestly, Sterra Moon ads had been popping up on my feed for months. Each time, I'd think, "Maybe next month," and scroll past. But seeing the change in my cousin, I decided to jump in.
My Sterra Moon arrived in just three days, and I set it up immediately.
The change was almost instant.
Just two days in, and I found myself waking up without the familiar congestion. No more reaching out for the tissue box or my inhaler the first thing in the morning.
That's when it hit me: The Regret.
I regretted all those months I spent contemplating, all those nights I could've slept better, all those mornings I could've started fresh without any allergy symptoms. If only I had made the decision earlier!
---
🌙 Why Sterra Moon Stands Out 🌙
Efficient Filtration System: Designed to tackle both allergy and asthma triggers, capturing 99.97% of airborne particles.

Whisper Quiet: Operates silently, ensuring you get a good night's sleep.

Fast Shipping: As I experienced, Sterra Moon ensures you get your purifier in record time.
---
For all of you out there, reading this and thinking, "Maybe next month" or "I'll see," don't wait like I did. Make the change now. Let Sterra Moon be the reason you wake up refreshed, without those pesky allergy or asthma symptoms.
I regret getting the Sterra Moon last week... because I wish I had it years ago.
Don't make the same mistake. Try Sterra Moon for yourself, and experience the difference.
---
Each breath you take is a step towards a healthier, more vibrant you. Don't delay that journey any longer.
The Sterra Moon Air Purifier has a medical-grade True HEPA-13 filter and it is one of the most popular air purifiers in Singapore. The Sterra Moon Air purifier is used by thousands of Singaporeans and celebrities. It offers maximum protection against bacteria, viruses, allergens, and other air contaminants, without the pricey cost.
It uses cutting-edge technology to provide the best air filtering system but comes at a reasonable price. It is a popular household option because Sterra Moon offers value for money by providing high-quality air purifiers but making them budget-friendly. 
Other than True HEPA-13 filter, with the Sterra Moon Air Purifier, you can get the UV or Negative Ion feature to receive optimal protection against harmful elements in the air. Sterra is one of the very few air purifiers in Singapore that have True HEPA-13 filters with latest UV and Negative Ion Technology, making it one of the most sought-after brands. 
The Sterra Moon Air Purifier is on a limited-time 50% OFF sale now!