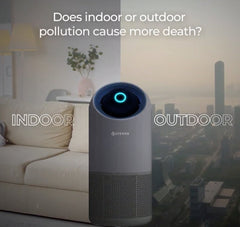 Is Indoor or Outdoor Air pollution worse?
It's a very common misconception than indoor air is clean, so there is no need for air purifiers. But studies have shown time and again indoor air is more polluted than outdoor air.
This study by The Straits Times states that air inside buildings can be five times more polluted than air outside. This is because "there are chemicals from cleaning products, aerosols and perfume rivaling diesel fumes as causes of contamination." 
This article from CNBC also states that "Indoor air can be deadlier than outdoor air, research shows." And that "World Health Organization has said that household cooking with coal or biomass-burning stoves led to 4.3 million deaths in 2021, compared with 3.7 million deaths from outdoor air pollution."
So there you go... Myth of Indoor air being clean is busted. 
Indoor Air Pollution kills more people than outdoor air pollution.
Indoor air pollution is caused by contamination from moulds, chemicals from cleaning products, aerosols and perfume rivaling diesel fumes.
High quality & Affordable Air Purifier
The simplest and most effective to create high quality air around you indoor is to get rid of allergens and dust through an Air Purifier with a Carbon Filter & True HEPA-13 filter.
The Sterra Moon Air Purifier has a medical-grade True HEPA-13 filter and it is one of the most popular air purifiers in Singapore. The Sterra Moon Air purifier is used by thousands of Singaporeans and celebrities. It offers maximum protection against bacteria, viruses, allergens, and other air contaminants, without the pricey cost.
The Sterra Moon Air Purifier also has carbon filter. This means it can remove unpleasant smells and odours.
It uses cutting-edge technology to provide the best air filtering system but comes at a reasonable price. It is a popular household option because Sterra Moon offers value for money by providing high-quality air purifiers but making them budget-friendly. 
With the Sterra Moon Air Purifier, you can get the UV or Negative Ion feature to receive optimal protection against harmful elements in the air. Sterra is one of the very few air purifiers in Singapore that have True HEPA-13 filters, Carbon filters and also come with the latest UV and Negative Ion Technology, making it one of the most sought-after brands. 
The Sterra Moon Air Purifier is on a limited-time 50% OFF sale now! 
Click here to check the availability!