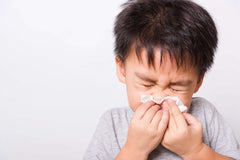 Doctor told me there's nothing we can do with my family's allergies as it's due to genes. But everything changed when I realized this simple cure for my whole family's constant sneezing, coughing, and watery eyes.
Without Costly Medications, Endless Doctor Visits, or Temporary Fixes.
Every morning, you can hear my whole family, from children, adults to elderly... sneezing and coughing non-stop.
From their bedrooms to the family get-togethers in the living room, my family couldn't escape the invisible allergens in the air.
As a family member, it tore me apart seeing my elderly parents and children battle with every breath they took.
Every sunrise brought with it runny noses, itchy eyes, and the weight of discomfort.
This had been our reality for years.
For a Long Time, Allergies Dictated How We Lived
Each allergic reaction was a dagger to my heart. Every family activity, every indoor game, and even mundane moments became ordeals.
To others, they became the "family always in distress." And believe me, we yearned for change.
From various doctor consultations, countless medications to trying ridiculous diets – nothing changed.
However, everything changed when I chanced upon a breakthrough article about  the link between allergies and humidity.
"Could Humidity Be The Reason Why We Are Coughing and Sneezing?"
The article introduced me to the Sterra Sun Dehumidifier.
Esteemed Dr. Tan mentioned it not just as a tool, but a comprehensive solution for homes with allergens.
Though my initial reaction was skepticism, my desperation for relief convinced me to take a leap of faith.
The Revolution in Allergy Management
The Sterra Sun Dehumidifier was engineered to ensure our homes stayed within the ideal humidity levels, creating an unwelcoming environment for allergens.
Did you know that Singapore's average humidity is about 70%-90%, while the ideal humidity recommended by experts is 30% to 60%.
I ordered one Sterra Sun Dehumidifier online and it came in 2 days.
Within two weeks welcoming the Sterra Sun Dehumidifier into our lives, the change was so obvious.
Sleep came easier, laughter was louder, and the weight of discomfort seemed to lift.
It wasn't just another device; it was our beacon of hope.
From Years of Despair to Days of Relief
Now, our home radiates the joy and activity it once did. The nights of distress are behind us.
The Sterra Sun Dehumidifier isn't just another household item; it's our shield against allergens.
Affordable, Effective, and Essential
It's user-friendly, efficient, and silent. Moreover, its value proposition beats the cumulative costs of doctor visits and endless medications.
For anyone wrestling with allergies, this is a game-changer.
The Magic Behind It
Besides regulating humidity, the Sterra Sun Dehumidifier doubles as an air purifier. Its cutting-edge filtration technology traps allergens, ensuring every breath you take is purer.
Out of 50 surveyed users of the Sterra Sun Dehumidifier, an astounding 93% witnessed a sharp decline in their allergy symptoms.
Don't Let Allergies Hold Your Loved Ones Captive!
Unveil a new dawn with the Sterra Sun Dehumidifier.
Witness a remarkable transformation in your allergy symptoms within a month or claim a full refund.
Take a moment and envision this: A home where every corner invites you in, free from the tyranny of allergens.
Should you not be dazzled by the results, they promise a 100% refund. No hurdles, no second guesses.
Ensure the sneezes, coughs, and tears are history. Opt for a risk-free, transformative experience.